Memorials
The memorials at St Peter's Church, in the Parish of St Peter with St Margaret, in Rochester (pictures below) provide an example of the types of plaques which were researched for the FOMA De Caville Index. An explanation of the St Peter's memorials is provided by Alan Moss below.
The Parish of St Peter with St Margaret in Rochester commissioned a new memorial board for St Peter's Church commemorating the names of those members of the former St Peter's Parish who died during the First World War serving in the armed forces. It was dedicated during Morning Service on Sunday 3rd August 2014 and was the focus of a Vigil held on 4th August 2014.
The two previously separate parishes of St Peter and St Margaret were combined in 1953.
The present St Peter's Church, in Delce Road, was built in 1973, replacing the earlier church of that name in King Street. The earlier church was Victorian Gothic in style and its First World War memorial board was also of that style. It was not at all appropriate for the simple, modern church and has ever since been stored in our other church, St Margaret's. At its opening, a simple plaque was placed in St Peter's commemorating the dead of both world wars, but not by name.
With the approach of the centenary of World War I it was decided to commission a new board in an appropriate style so that the names of the 120 who had died (including recipients of the Victoria Cross and Croix de Guerre) could once again be properly displayed. Fittingly for this parish, the memorial was made at a workshop in Chatham Dockyard.
Alan Moss, August 2014
---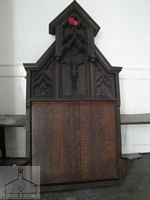 The old St Peter's World War I memorial board, which is now housed in St Margaret's gallery. The names on the board have faded and are difficult to see even in good light.